THE ATHENIAN INSTITUTE OF ANTHROPOS (AIA)
is Center of Study, Research, Training and Development of Applications of the Social Sciences for Human.  AIA was founded in 1963 by George and Vasso Vassiliou and is a community service non-profit organization, based in Athens. AIA is a member of the Institution for Promoting Studies of Human Relations (E.P.E.A.S.).
AIA's aim is to contribute, in a catalytic way, to Human Sciences, to Communication and Cooperation among professionals that are dealing with Human and its groups, on a local and international level.  It applies, cultivates and develops through all its activities the Systemic-Dialectic Multilevel-Multifocused approach of human situation, which was introduced by its founders.
OFFERS
AIA offers clinical services, with emphasis on family therapy, couple therapy and group psychotherapy.  In addition, it provides various programs of training, internship and supervision, addressing mental health professionals, educators, adult trainers, company executives etc.
PROMOTES
AIA promotes research in the fields of therapy and training, collaborates in scientific editions, organizes scientific meetings, actively participates in the bodies and actions of Greek and international professional associations and organizations.
SERVES
AIA serves with consistency the vision of a meaningful life, through training and constant psychosocial development of the human.  A life that bases personal and social development on "autonomy through and for interdependence" as George and Vasso Vassiliou formulated.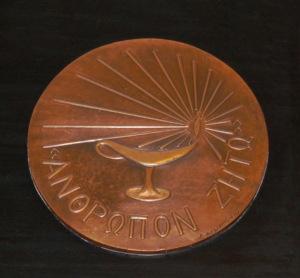 AIA is the first institution in Greece that offered training related to the theory and practical applications of Systemic Group and Family Psychotherapy as well as one of the first institutions for the systemic family therapy on a European level.
From 1963 until today, AIA is continuously evolving.  Through the years, Vassiliou developed a Systemic – Dialectic Model for Psycho-Social Intervention offering a holistic view of Human, which includes all the groups he belongs to (i.e. the Family, the Community, and Society).  AIA, at the same time, developed new theoretical models and therapeutic approaches, functional and effective for the Greek family, and it continuously trains an always increasing number of professionals in this scientific field.
In its years of operation, AIA, the scientific team and its associates, have dedicated their actions in the development, establishment and supervision of prevention programs that encourage the creation of functional groups within medical, educational and community settings, throughout Greece.
Besides AIA's main activity in Greece, its associates build and maintain stable cooperations with institutions abroad.  As the central trainers for Family Therapy and for Group Therapy, they cooperated with worldwide outstanding educational institutions, they implemented Training Workshops, Post Graduate Seminars and Tutoring programs for applied techniques in important universities, research centers, health and welfare organizations and scientific associations in more than 15 European countries as well as in the United States, Canada and Mexico.
Specifically, in the European continent the activities/cooperations extend in Bulgaria, Cyprus, Croatia, Czech Republic, Denmark, FYROM, Hungary, Italy, Malta, Poland, Portugal, Sweden, Algeria, Serbia, Romania, Turkey, Israel, Russia, Great Brittan.
In the last decades AIA was represented by its founders and a series of its associates in events of worldwide significance and great scientific value all over the world and in Greece (i.e. "International Conference for Family Therapy", "International Delphic Symposiums for Family Therapy", presided by G. Vassiliou and co-presided by D. Rubinstein).  At the same time, participation of both Vassiliou in central positions of international scientific associations contributed to the organization's ability to maintain constant contact with scientific research and evolutions in the systemic theory as well as feed the international scientific community with data which is derived from its contacts with theory and practice.
Society for the Advancement of Human Relations Research

(S.A.H.R.R./ Ε.Π.Ε.Α.Σ.)
CHAIRMAN: DionysiosN. TODOULOS
SECRETARY: Manolis VELITZANIDIS
TREASURER: Evangelos SPINELLIS
SUBSTITUTE MEMBERS
George BARDANIS
Aris MOUSTAKAS
Eleni EFTYCHIDOU
Moissis KOUROUZIDIS