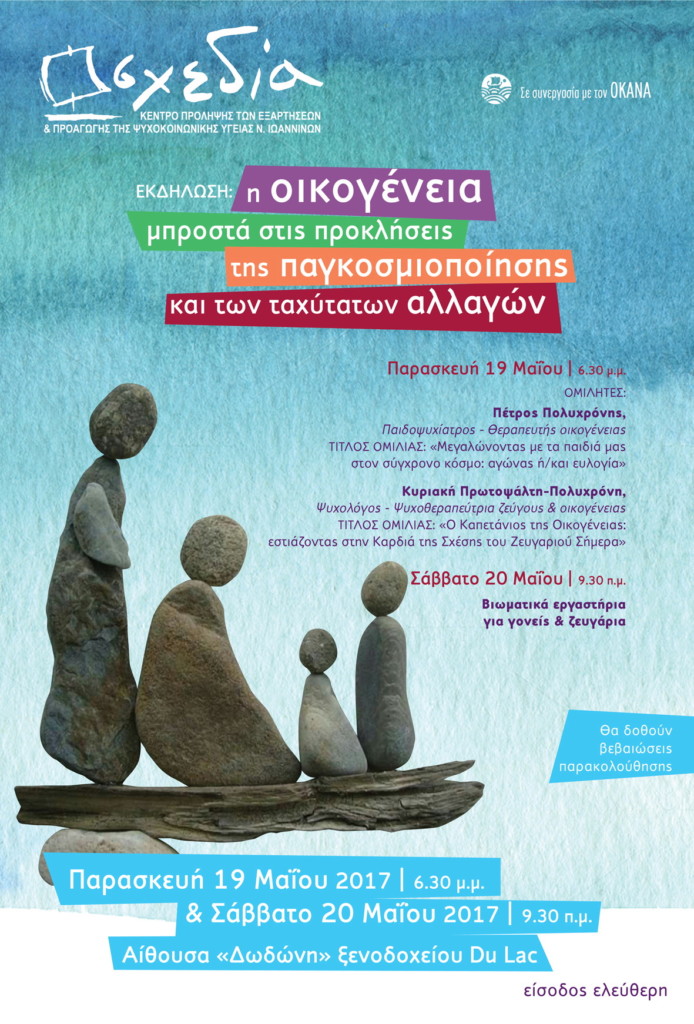 "The Family Facing the Challenges of Globalization and Rapid Changes" is the theme of action and awareness-raising organized by the Center for the Prevention of Dependencies and the Promotion of Psychosocial Health of N. Ioannina "Sxedia", in collaboration with OKANA on Friday 19th & Saturday 20 May 2017.
IInvited to the event are Petros Polychronis, Child Psychiatrist – Psychotherapist and Director of AKMA and Kyriaki Polychronis, Psychologist – Parent and Family Psychotherapist and a member of the AKMA Scientific Group, who will coordinate discussion and experiential seminars for parents and couples from the local community of Ioannina.
Specifically, on Friday, May 19, 2017, at 18:30, the speeches will be held entitled:
"Growing up with our children in the modern world: struggle and/or blessing" by Petros Polychronis, and
"Captain of the Family: Focusing on the Heart of the Relationship of the Couple Today" by Kyriaki Polychronis.
On Saturday, May 20 at 09:30 in the morning, Petros Polychronis and Kyriaki Polychronis will coordinate two workshops for parents and couples.
The event will take place in the Dodoni Hall of the Du Lac Hotel in Ioannina. Entrance is free for all. There will be a secretariat where all those who are interested in attending the workshops will have to declare their participation, from Friday afternoon.
---
More information:
For the Center for the Prevention of Dependencies and the Promotion of Psychosocial Health "Sxedia"