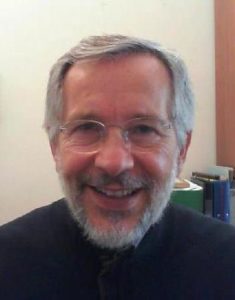 Psychiatrist, University of Athens Medical School. Dialectic Systemic Psychotherapy, couples, families, groups and communities at the Athenian Institute of Anthropos (A.I.A.1984-1989), Certificate (ECP) European Association for Psychotherapy (EAP 2010). Postgraduate studies in Social Psychiatry Mental Health Center Byron-Kaisarianis, University Clinic Eginitio. (2/2002 -8/2002), and as an instructor and supervisor of psychotherapists at the A.I.A.
Participation in Greek Psychotherapy Associations
President (from 01.02.2013 to date) of the Greek Society of Systemic Family Therapy,groups and individuals (HEL.A.SY.TH.) and Vice President (2010-2013).
Member of Board of the Greek Society for Systemic Thinking and Family Therapy (HESTAFTA) (1990-2001 and 2005-2007).
Vice President of the National Society for Psychotherapy of Greece (N.O.P.G) (1998-2002) federation of scientific societies and educational centers, a member of the EuropeanUnion of Psychotherapists (EAP), responsible for the administration of the European Certificate of Psychotherapy.
Participation in International Societies
Member of the American Group Psychotherapy Association (AGPA)
Member of the European Family Therapy Association (EFTA)
Member of the Executive Committee of the Mediterranean Society of Social Psychiatry (1990-1991). (ME.SPA)
Founding member and first Head of Department-Prevention Training Organisation Against Drugs(O.KA.ΝΑ., posting, 1995-1998) (three-year pilot prevention programs - education in 5 municipalities of Greece: Education-Supervision executives prevention school and local communities).
Trainer at:
Family Program Therapeutic Community "Strophi", the Centre Addiction Treatment (KETHEA)(1991-1994).Educational work beyond working frameworks in collaboration with Graduate School, Universities, Ministries, Scientific Organizations, Institutions, Health and Mental Health, etc., mainly through experiential way. Member of the Scientific Advisory Group of AKMA (Trainer, Consultant Interdisciplinary psychotherapists, teachers, etc.).
Manager of Projects:
Athens General Hospital "G. Gennimatas": Director in Psychiatry Clinic, est. debts Coordinator Director of the Psychiatric Department and Director Psychiatric Sector. (upuntil 2013) Establishment - Responsible Psychotherapy Unit of General Hospital ofAthens "G.Gennimatas'
Athenian Institute of Anthropos p.43
Elected Member Board KETHEA (2005-2009),which has 70 units in Greece .
President of 12th T.E.PS.Y. Attica State 6th TEPSY and T.O.PS.Y. Boeotia - Evia.
Social Psychiatry:
Founding member and President of the EU.'s Greek Society for deinstitutionalization and Mental Health (APOPSY)(1990)
Founding member of the Mental Health EINAP. Responsible for the issues of Mental Health United Coalition.
Secretary General of the Scientific Association of Psychiatric Hospital of Attica Daphni (1985-1986)
Writings:
Member of the Editorial Board of the journal " Psychiatric Notebooks"
Member of the Scientific Board of the journal "Addiction".
Edited Books, publications in books and magazines.